iCex® (Integrated Cellular and Ethernet eXplorer).

Embedded or encapsulated data producer that explores sensors, analyzers, controllers etc. over I/O, Ethernet or serial protocols, and link them to the internet by any cellular, satellite or other connection
iCex gateways solve remote data acquisition and device control (i.e. PLC, inverters, controllers) through the Internet using mobile and other networks.
iCex Gateways are members of the RealiteQ platform that facilitates the monitoring and controlling of remote distribute devices over public or private networks.
The Icex  support wire, GPRS, G2, G3, G4, G5 and Satellite communication, for the GPRS, G2  G3 there are models with internal modem, for the G4, G5 and Satellite options we use an external modem.
Supporting HTTP / HTTPS /VPN/SSL/ HTML /SVG / GPRS / UMTS / HSDPA / CDMA /
Satellite / OPC / WAP and more, iCex & RealiteQ aim to solve many of the problems associated with distributed control applications, such as performance, network configuration and security.
With iCex it is possible to integrate a variety of devices such as controllers, computers and other units in disparate locations, including mobile devices, using a unique architecture which allows machines to communicate securely without requiring special network configuration, such as virtual private networks, or opening holes in your firewall.
iCex - Dimensions:
W x L x H 46 X 70 X 105 mm (1.8 X 2.8 X 4.1 Inch)
iCex - End unit (Gateway):
iCex - Typical installation:
iCeX -  Internal block diagram: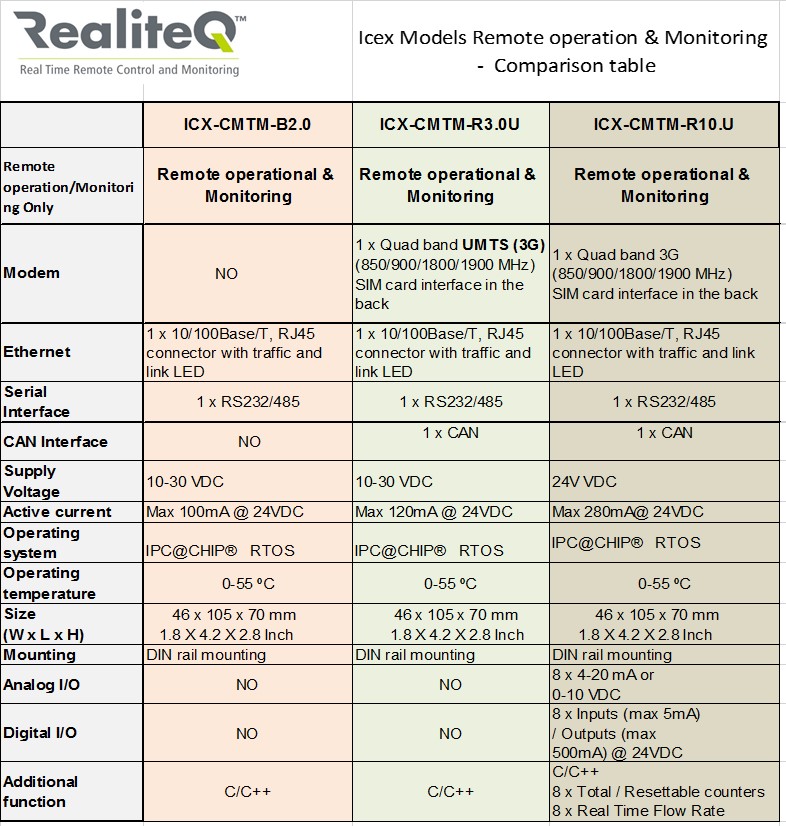 View/Download iCex B2.0 spec (PDF)
View/Download iCex R3.0 spec (PDF)
View/Download iCex R3.U spec (PDF)
View/Download iCex R9.0 spec (PDF)
View/Download iCex R10 spec (PDF)